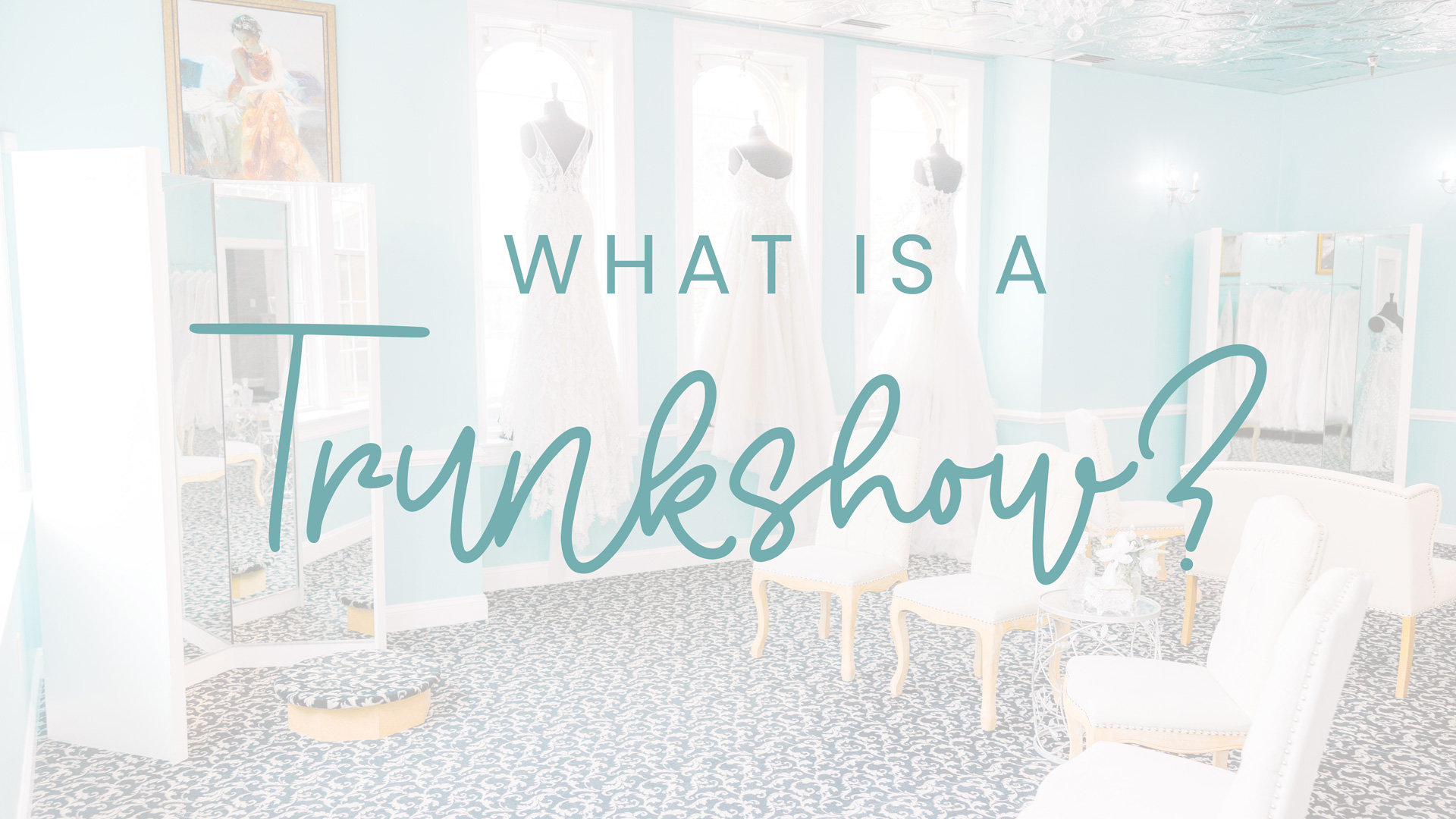 20 Nov

Wedding Dress Shopping 101: What is a Trunkshow?

Congratulations, bride-to-be! You're on the exciting journey towards saying "I do," and if you're here – you're probably on the hunt for your dream dress! In your search, you've probably come across bridal shops promoting special events and trunkshows! If you're wondering what all this bridal lingo means – we'll walk you through what a trunkshow is!
What is a Trunkshow, Anyway?
A wedding dress trunkshow is like a pop-up shop for brides-to-be! These are always gorgeous gowns straight from the designer's studio, unveiled just for you! These events are a celebration of bridal fashion, offering an exclusive sneak peek into the latest collections and designs.
Why Trunkshows Are Extra Special:
First Dibs on Fresh Styles: Trunkshows give you the chance to be a trendsetter, allowing you to try on and purchase dresses from upcoming collections before they hit the regular stores. It's like having VIP access to the hottest bridal trends!
Personalized Attention: Forget the crowded department stores where you have to wrestle with other brides for a mirror. Trunkshows are intimate and exclusive, ensuring you get the attention you deserve. It's like having your very own entourage dedicated to making your bridal dreams come true.
Sweet Deals and Discounts: Say 'hello' to savings! Many trunkshows offer special discounts and promotions that are exclusive to the event. Who wouldn't want to snag a gorgeous gown at a great deal?
How to Make the Most of Your Trunkshow Experience:
Book Early: These events can fill up fast, so be sure to secure your spot in advance. Some of these styles may not return to the store again – you don't want to miss out on the dress of your dreams!
Bring Your Squad: Gather your closest friends + family and make it a day to remember. Their opinions and support will make the experience even more joyful.
Keep an Open Mind: While it's great to have an idea of what you want, be open to surprises! Trunkshows often feature unique designs that you might fall head over heels for.
Have Fun: This is a celebration of love and style! Enjoy every moment, from trying on dresses to making memories with your loved ones. Cherish the joyous atmosphere and the memories you're creating.
So, there you have it – the lowdown on wedding dress trunkshows. It's not just a shopping spree; it's a bridal bash, a chance to live in the excitement of finding the gown that will make you feel like absolutely stunning on your special day. Dive into the magic, embrace the joy, and let the trunkshow experience be a delightful chapter in your journey to 'happily ever after.' Happy dress hunting! 💍
Check out our Upcoming Events to keep an eye on which trunkshows are coming to Stella's!