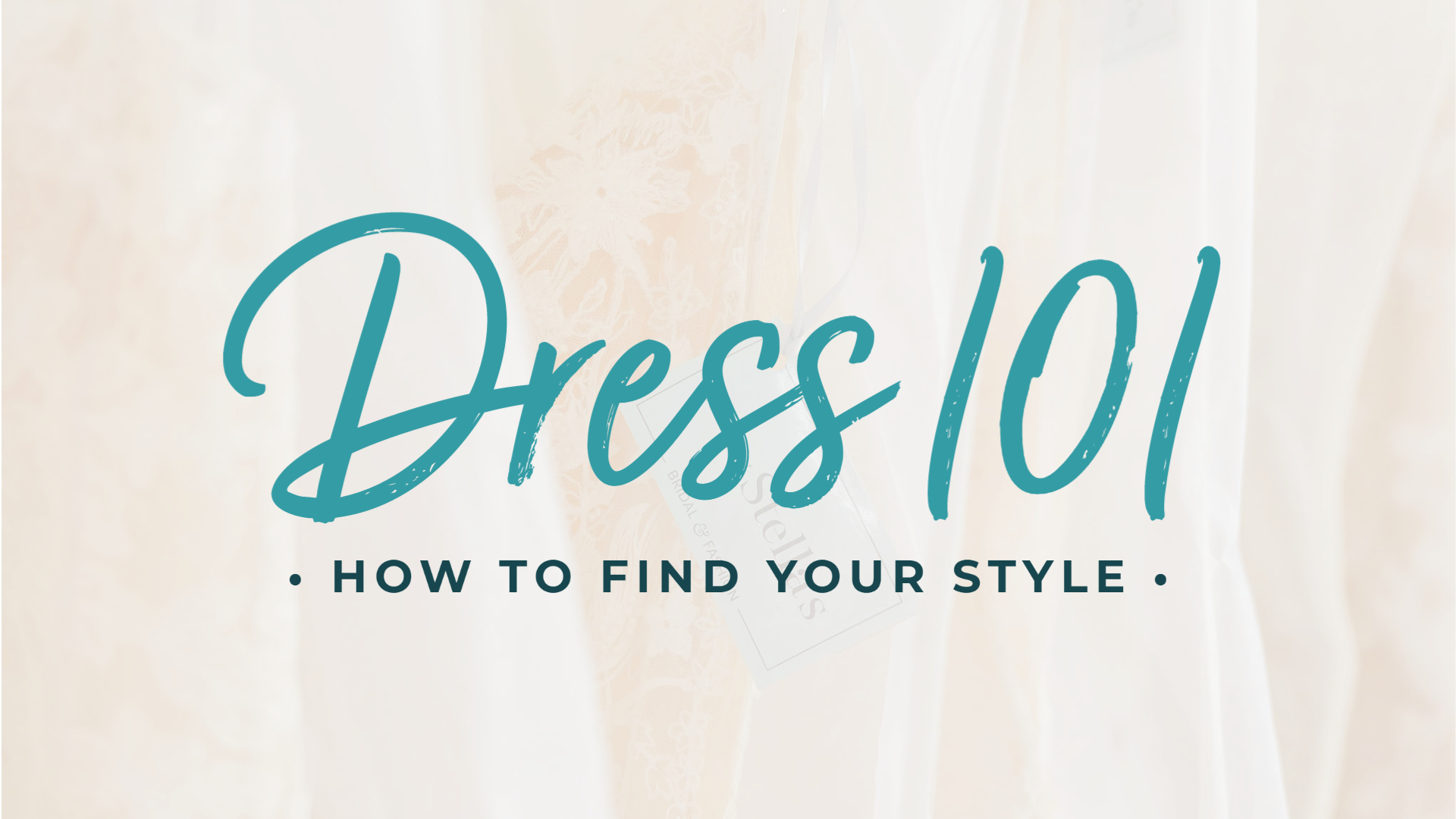 06 May

Wedding Dress 101

When you're starting your shopping experience, you may not exactly know how to describe what you're looking for in your dream dress! We totally get it – it can be overwhelming when you start looking without knowing your bridal vocab! We're here to help you understand the different parts of a dress and everything you need to know to shop for your dress!
Shapes + Silhouettes

We'll break down each type of dress silhouette for you, but when you're going to your appointment, you don't need to get hung up on specifics. There are two main silhouettes that you need to know – fitted or flowy. When you come to your appointment, telling your stylist whether you want a fitted dress or a flowy dress is a huge help, because we won't put you in anything you know you're not comfortable in! However, you can explore several different styles within those two categories, or try on that you didn't expect to like!
Fitted Silhouettes
If you're a fan of showing off your curves, than fitted silhouettes are for you! There are two main types of fitted silhouettes – mermaid or trumpet. While mermaid and trumpet style dresses are very similar, there is a little bit of a distinction between the two. Trumpet dresses have a straighter fit throughout the hips and start flaring out at the thigh, while mermaid has more of a dramatic flare at the knees. Both styles create a stunning silhouette and show off your curves!
Flowy Silhouettes
When it comes to flowy dresses, the two main shapes to go for are an a-line or a ballgown. A-line dresses have a fitted top, and flow out at the natural waist. You can tell an a-line dress, because the skirt makes the shape of an 'A'. If you're wanting more volume, ballgowns are for you! Similar to a-lines, ballgowns have a fitted top and flare out at the waist!
If you're looking for something that isn't tightly fitted to the body, but also isn't super full, you might like a sheath or column dress. These dresses flow with the natural shape of the body!
Necklines
When you're looking at dress inspiration, you may come across a diagram that looks a bit like the one on the left. While diagrams like these are helpful, you may not find every single one of these necklines in a bridal shop! It's good to be able to call them out by name, but also knowing whether you prefer more modest necklines or not is just as helpful!
Some of the most common necklines in bridal are:
Sweetheart
Straight
V-neck
Square
Halter
Illusion
Plunge
Off-the-shoulder
Train Lengths
There's four main train lengths to know about in bridal! From the shortest to the longest, they are:
Sweep: Barely brushes the floor
Chapel: 3 Feet long
Cathedral 6 Feet long
Royal: 10 Feet long
Remember, the longer the train is, the more bustles you may need in alterations, so keep that in mind!
We hope all this information helped you out and hopefully you can use your new bridal lingo to help tell one of our stylists exactly what you're looking for in your dream dress!!