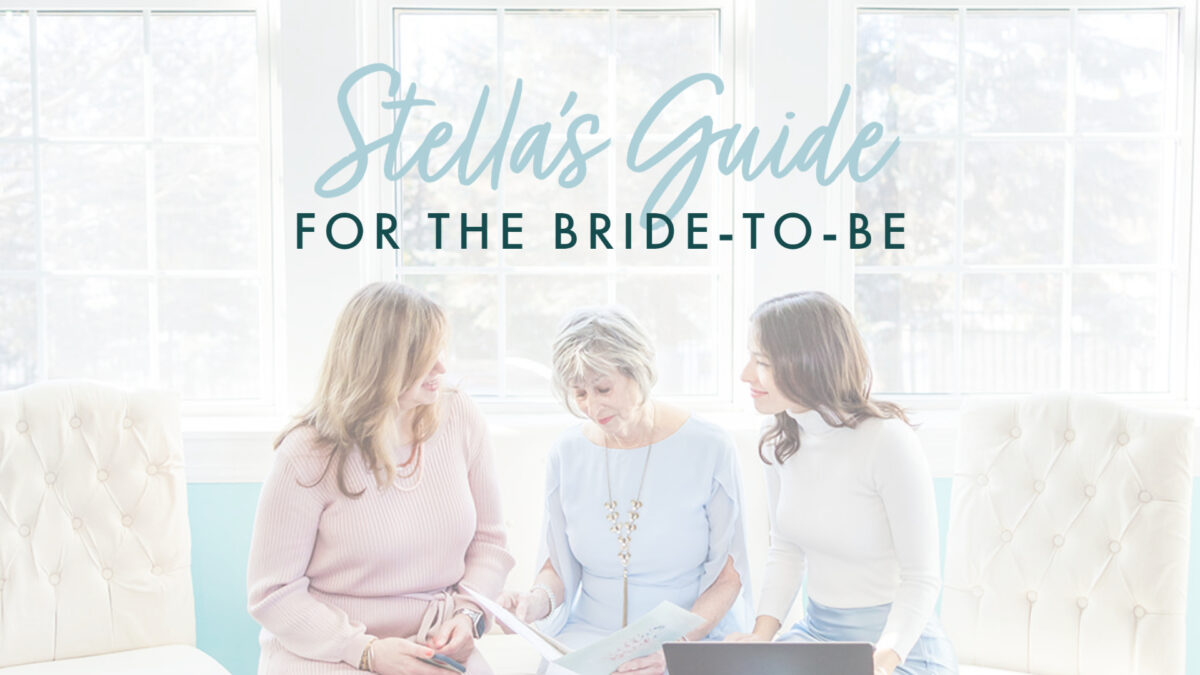 16 Apr

Stella's Guide for the Bride-to-Be

If you're newly engaged, odds are you've never planned a wedding before! From picking a wedding date, finding a venue, purchasing your dream dress, to picking all the vendors you need, it's easy to get overwhelmed before your big day! We want you to look and feel your best while saying 'I Do' – so we've compiled everything you need to know about wedding dress shopping as a 2022 or 2023 bride!
When should you schedule your appointment?
It's never 'too early' to start looking for your wedding dress. However, it is important to know when you're planning on getting married when you start shopping. Our industry, like many others, is facing supply chain issues right now so letting us know the date for your big day ensures that we will find you a dress that will arrive in time! Dresses can take anywhere from 6-10 months to produce and ship out, especially if you choose to get custom measurements or changes made to your dress. If you fall in love with a dress that doesn't need any customizations, the designer may have hanging stock of your dress – which can ship to us in just a few weeks! However, designers don't always have hanging stock of every color and size, so it may take longer to get to you. If you have a shorter timeline – that's okay too! We are able to sell some of our dresses off of our racks so you can rock them down the isle!
Keep in mind, if you need to get your dress altered it will add a few more weeks to the timeline. We recommend that you start alterations 6 weeks out from your wedding date to allow the seamstress plenty of time to perfect the dress for you!
How Much do Wedding Dresses Cost?
Here at Stella's, we offer dresses in a variety of price points to ensure that our brides can find something within their budget! The prices of dresses in our store range from $1,000-$4,200. Most dresses in our store are under $2,500. If you're interested in one of our more couture collections, like Rosa Clara or the Disney Fairy Tale Weddings Collection, you should plan on spending $2,000+ for your dress.
It's also important to keep in mind that there may be additional expenses beyond the cost of the dress! If you are ordering your dress, you will have to pay for shipping on the dress. If you decide to get alterations done on your dress, either through our seamstress or your own, you should factor that cost into your budget as well!
If you are a bride on a lower budget, we do have a selection of off-the-rack sale dresses that you can purchase from us at a discounted price! Several of our sale gowns are below $1,000! We have sale gowns in almost every size and style, but keep in mind, it is a limited selection, so we may not have exactly what you want! We also have a sale once a year where we heavily discount our dresses!
What Kind of Appointments Do You Have?
We offer three different kinds of bridal appointments here at the shop! We do require you to have an appointment to come in, so we can assure that you get the attention and space that you need!
Our first bridal appointment type is completely free. During your bridal appointment, you will work one-on-one with one of our trained stylists for 90 minutes to try on dresses. For our free appointments, you can bring up to 4 guests with you! You and your guests can sit back and relax – as our stylists will take care of pulling all of the dresses for you!
You can also choose to come in for a VIP bridal appointment, which is $99. Scheduling a VIP appointment will give you 2 hours to try on dresses with one of our stylists in a private room! You will also receive a Miss to Mrs goodie box with fun gifts for the bride! For VIP appointments, you can bring up to 6 guests with you!
Our third appointment type is our most exclusive, the Princess Bridal Appointment. For $499, you can rent out our entire store for 3 hours! You will have several members of our staff to help you find your dream dress! We will also have light hors de vours, sparkling cider, Miss to Mrs personalized goodies, and lots of other surprises only available during the princess bridal experience at Stella's!
I said 'Yes' to a Dress! Now What?
Congratulations! Once you say 'Yes' to the dress, you have the option to purchase one of our Bridal Packages! We offer 3 different options!
Our Personal Package is $29 and includes a personalized dress bag, a "Bride" hanger, and one month of free storage! Our next level is the Planner Package which is $99 and include the hanger, bag, and 2 months of free storage! Our Princess Package is $399 and includes the bag, hanger, 3 months of free storage, week of wedding steaming, and wedding preservation! The Princess Package is valued at $600, so it is a great deal!