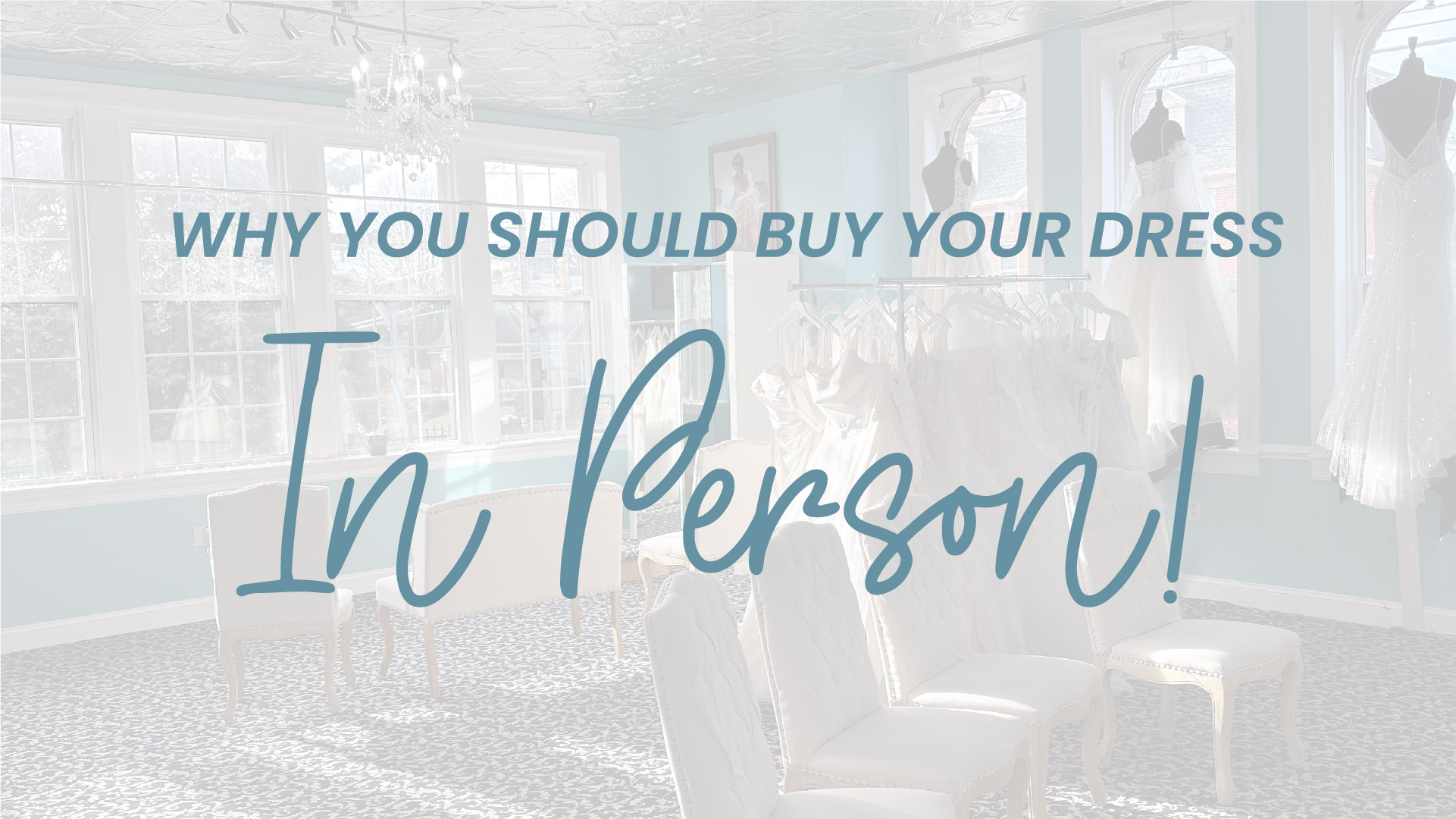 13 Jun

6 Reasons You Should Visit a Bridal Shop In-Person vs Shopping Online

Wedding dress shopping is the moment every bride dreams about! With so many options, it's no wonder brides find themselves torn between shopping in-person and the convenience of online dress shopping. Grab your glass of bubbly and let's dive into why the magic of bridal shopping in-person is an experience like no other!
Immerse Yourself in a Fairytale Experience: Picture this—a stunning boutique filled with racks of gorgeous gowns and a dedicated bridal consultant by your side. Bridal shops offer an experience like no other, making you feel like a VIP bride-to-be. Bridal shops create an atmosphere that elevates your wedding dress journey to a whole new level! We even offer upgraded experiences to elevate your experience – with sweet treats, private suites, and BYO bubbly!
Expert Guidance and Personalized Attention: Every bride deserves the princess experience and we achieved that by providing a dedicated stylist to guide you towards your perfect gown. Our stylists possess a wealth of knowledge, experience, and an magic ability to understand your unique style and vision. We'll listen to your wishlist, make suggestions for styles, and help you explore options you might not have considered. Our expertise ensures that you feel confident and absolutely breathtaking on your big day.
The Joy of Trying On: You don't want to miss out on the excitement of slipping into that first wedding dress and catching a glimpse of your reflection! In-person bridal shopping allows you to indulge in the amazing experience of wedding dress shopping! You'll have the opportunity to see how different styles complement your figure, adjust the fit, and witness the gown's true magic coming to life. It's a moment of connection, excitement, and a preview of the beautiful bride you'll become.
Touch and Feel: Online shopping may offer convenience, but it lacks the tactile experience of touching luxurious fabrics, experiencing intricate details up close, and enjoying the craftsmanship of a wedding dress. Bridal shops allow you to feel the weight, texture, and quality of the gowns. The experience of feeling how a dress feels on you before you buy is simply unparalleled!
A Bonding Celebration: Finding your dream wedding dress should be a celebration, and what better way to celebrate the joy than surrounded by your family and friends? Bridal shopping allows your loved ones to share the experience, creating lasting memories and strengthening the bonds that will support you throughout your journey to the altar. Their laughter, tears, and heartfelt cheers will make this chapter even more meaningful!
Ensuring a Perfect Fit: A wedding dress is not just a piece of clothing—it's a symbol of your love story, your personality, and your unique beauty. The expertise of our stylists extends to ensuring the perfect fit, with on-site alterations to shape the dress to your body. We'll guide you through every detail, from adjusting the hemline to sculpting the bodice, to ensure that you feel like an ethereal vision on your special day.
Wedding dress shopping is more than just finding a dress; it's an experience that weaves together excitement, emotion, and the joy of discovery. The ambiance, expert guidance, tangible touch, and the celebration of finding "the one" make the journey extraordinary.
One of the other benefits of shopping in-person here at Stella's is that we're a one stop shop! Not only will we help you find the dress of your dreams but we can dress your whole bridal party as well! We have a private Mother of the Bride/Groom suite, as well as a fabulous bridal party room for your bridesmaids and groomsmen! Explore all of the different ways we can make your shopping experience special HERE.