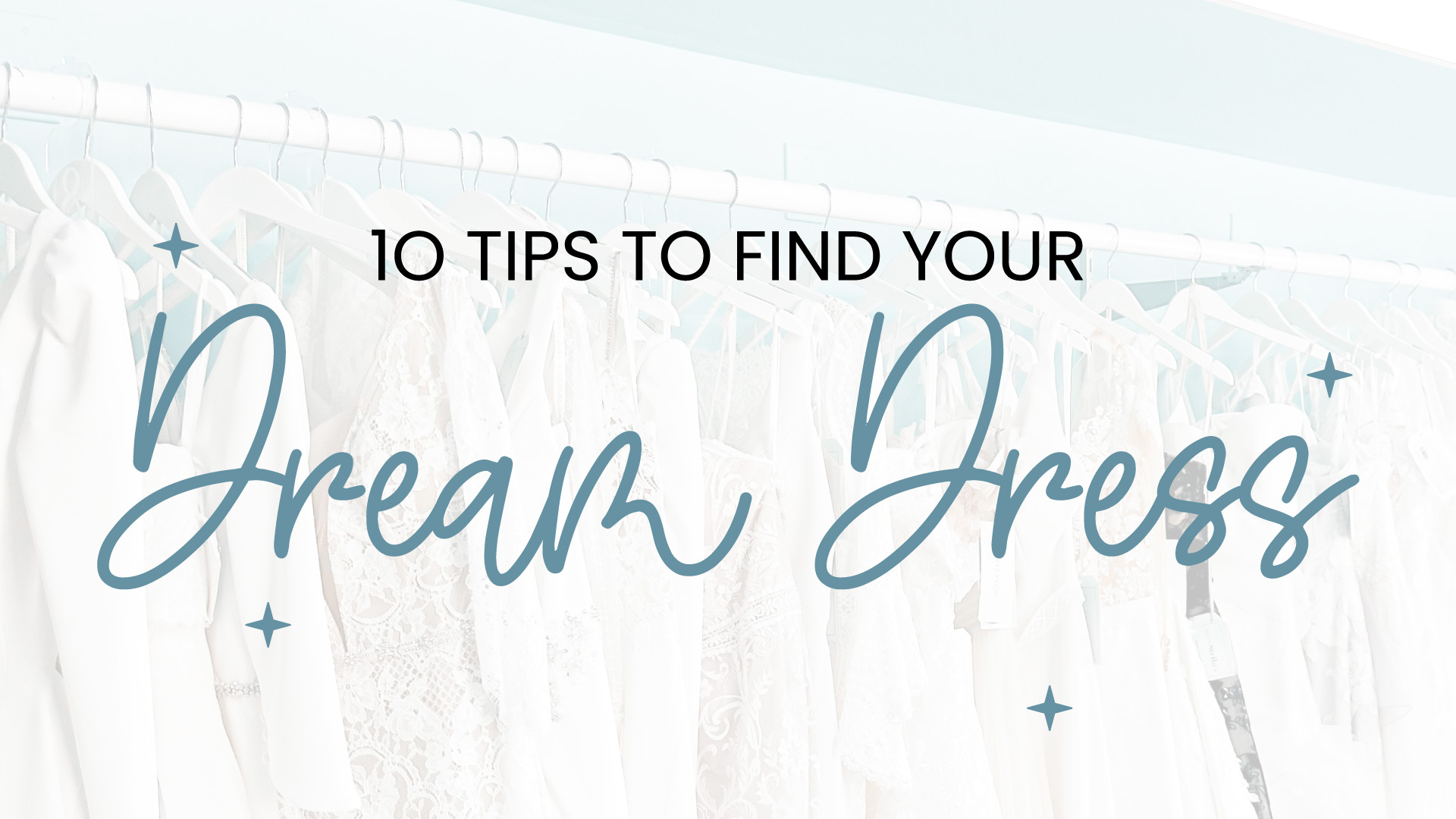 06 Jun

10 Essential Tips for Finding Your Dream Wedding Dress

Your wedding day is one of the most memorable and cherished moments in your life, and finding the perfect wedding dress is an essential part of making that day truly special! With countless options available, it can feel overwhelming to navigate through the sea of wedding gowns. However, fear not! We have compiled ten essential tips to help you find your dream wedding dress and make the process an enjoyable and stress-free experience.

1. Start Early:
Begin your search for the dream wedding dress well in advance. Wedding dresses often require alterations and customizations, so give yourself ample time to explore different styles, visit bridal shops, and make a decision without feeling rushed.

2. Research and Find Inspiration:
Browse wedding magazines, online platforms, and social media to gather inspiration and create a vision board of your dream dress. Pinpoint specific elements such as neckline, silhouette, fabric, and embellishments that resonate with your personal style!

3. Set a Realistic Budget:
Determine your budget for the wedding dress early on. Consider the cost of alterations, accessories, and potential customization. By having a clear budget in mind, you can focus on finding dresses that fall within your price range. Here at Stella's our average price range is $1500-$2500!

4. Body Shape Awareness:
Understanding your body shape is crucial when selecting a wedding dress that flatters your figure. You can rock whatever silhouette you choose, but certain styles  will enhance your best features. Consult with bridal experts who can guide you toward the most flattering options for your body type.

5. Choose the Right Bridal Shop:
Selecting the right bridal shop is key to a successful wedding dress search. Here at Stella's, making your experience special is the most important thing to us! We are here to help support and navigate you through this big decision!

6. Bring a Supportive Party:
Inviting trusted friends or family members to accompany you on your dress shopping journey can provide valuable input and emotional support. However, keep the group small and focused on individuals who understand your style and preferences. Their feedback can help you make a confident decision!

7. Be Open to Trying Different Styles:
While having a vision is great, be open to trying on different wedding dress styles! Dresses often look different on the hanger compared to how they look on you. Give different silhouettes and necklines a chance; you might be pleasantly surprised by a style you had not considered!

8. Comfort Matters:
On your big day, you'll want to feel comfortable and at ease in your wedding dress. Pay attention to the fit, fabric, and movement of the gown when trying it on. Ensure you can sit, walk, and dance comfortably without any restrictions.

9. Trust Your Instincts:
When you find a dress that gives you that "bridal moment" and makes you feel like a million dollars, trust your instincts. It's essential to choose a dress that reflects your personal style and makes you feel confident and beautiful on your wedding day. Don't overthink it!

10. Don't Forget the Accessories:
Accessories can elevate your wedding dress and complete your bridal look. Consider veils, headpieces, jewelry, shoes, and even a belt or sash to add a touch of glamour or personalize your gown further. Coordinate these accessories with your dress to achieve a cohesive and stunning ensemble.

Finding your dream wedding dress can be an exciting and emotional journey. By following these ten essential tips, you'll be well-prepared to embark on your dress shopping adventure. Remember, the most important thing is to find a dress that reflects your unique style, makes you feel incredible, and allows you to create unforgettable memories on your special day!